Today, we expected the arrival of the QB Wings and Fuse and also a lot of accessories packed into them via Van's. We had previously cleaned the shop and made space for the fuse. Of course we also arranged for a day off of work ahead of time.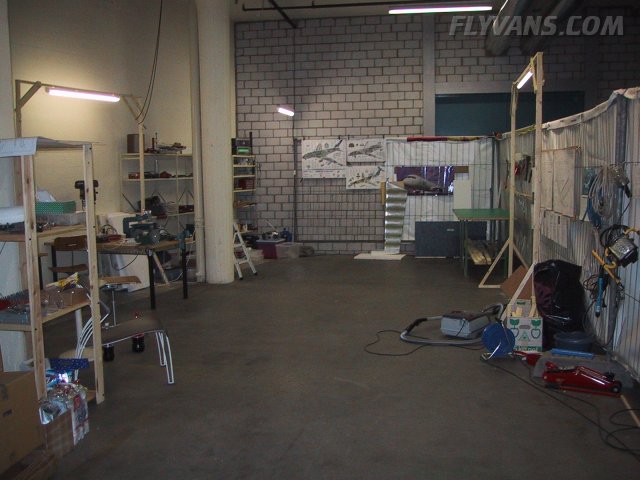 The trucker got here way early, it was around 0830 this morning when he called us up yet at home... So we had to rush to our workshop which is about 10min from our living place.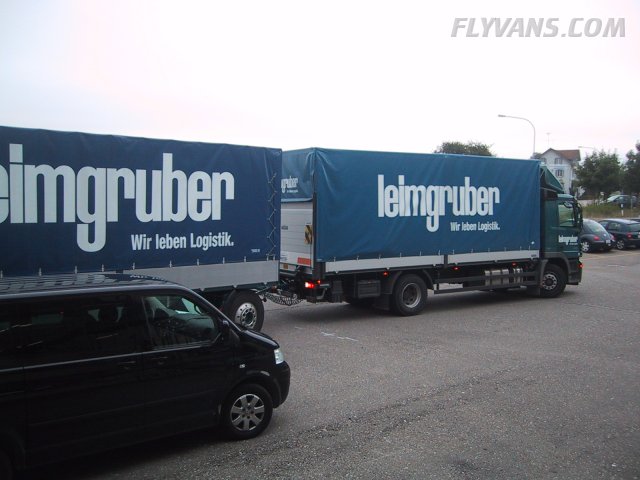 Fortunately our workshop is in an industrial complex, so a truck terminal is available. Otherwise this could have been a major PITA... Also we were just us 2 and the trucker to offload the 2 large crates.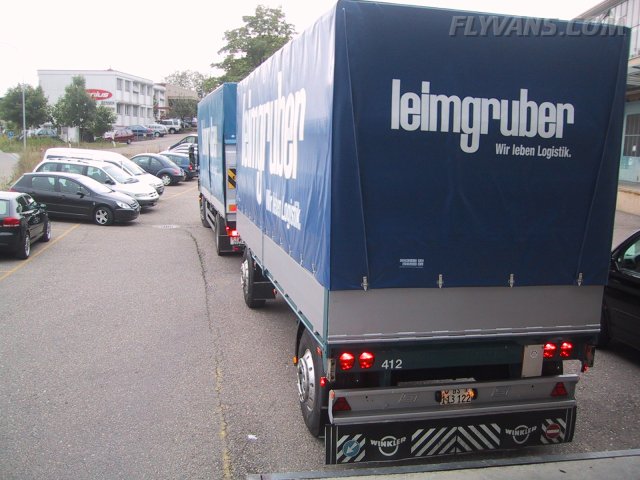 There were our crates, a trailer just for themselves :-) Although it had been arranged, the crates were not yet positioned on pallets and just one hand pallet truck was available. The hole in the frontside of the crate didn't look nice either...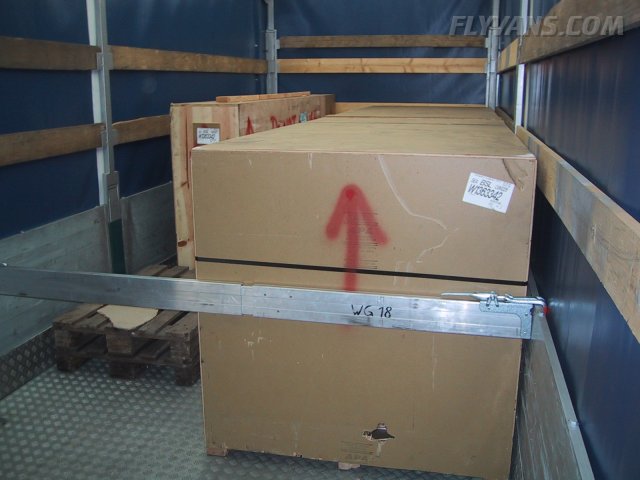 Our neighbours from Autoteile Rümlang kindly let us use their hagahuwa (short in German for "Handgabelhubwagen" = hand pallet truck) so we were able to lift both ends after putting them on pallets.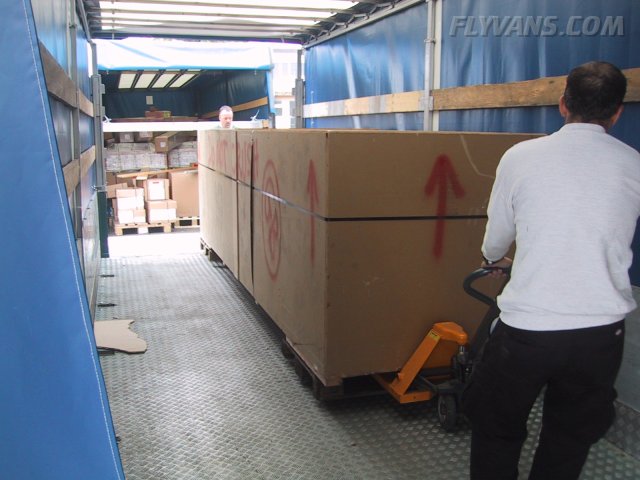 The other side looked quite beat up as well, but it proved to be the tail without any internal damage at all :-)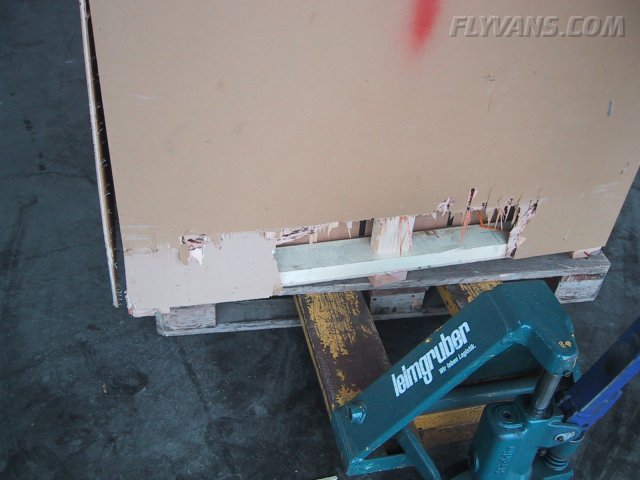 Although a dark picture, this should give you an impression of how big this crate really is! Anyway, our impression is that generally everything appears to be smaller on our pictures than it really is! Impressive!
The crate filling out the workshop almost entirely.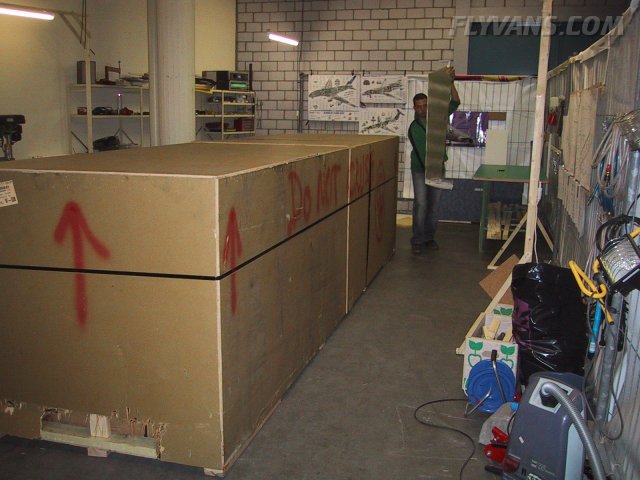 After the successful offload, we had to catch our breath and took a picture *G*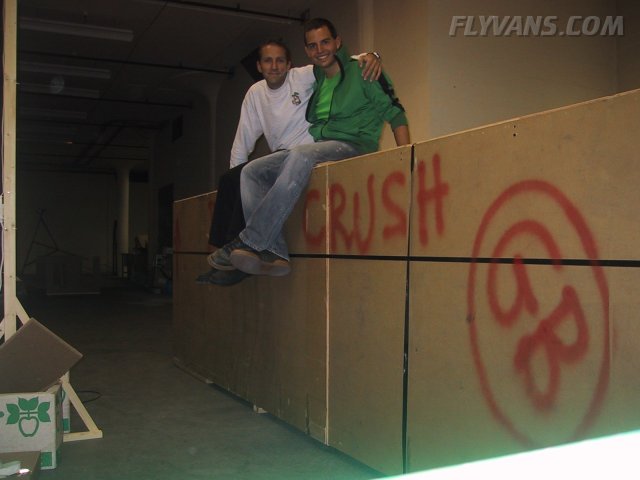 Of course we got right down to business and started uncrating.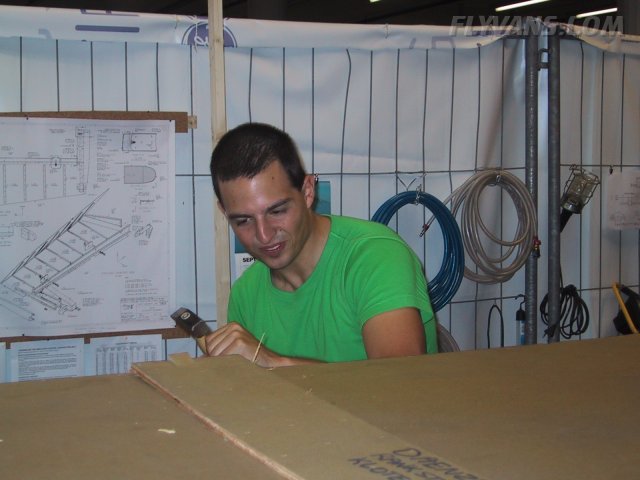 They sure use a lot of staples at Van's :-)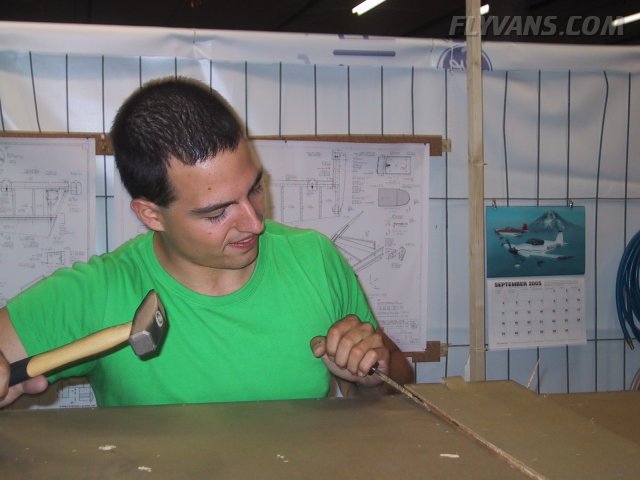 The largest wrench available worked out best.
After the topside, both ends were taken off.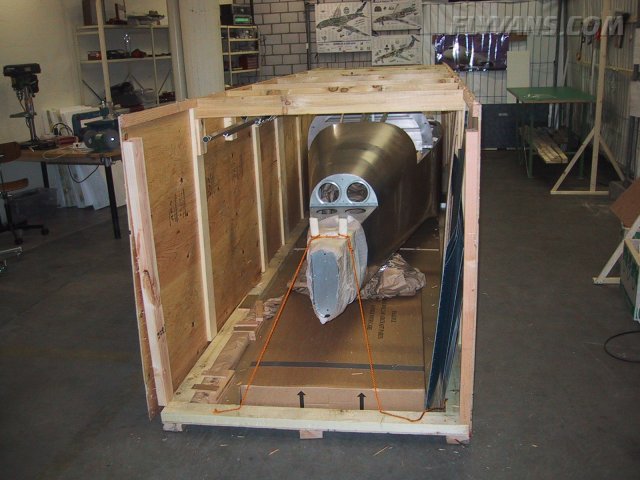 A visual inspection of the fuselage let us in awe by the quality workmanship and the beautiful kit!
Unfortunately we also found a smallish dent in the firewall, which was behind that hole in picture #4 from the top of this page. We will have fellow builders and our building advisor have a look at it, but from our first damage assessment it looks like there is no structural problem - and even cosmetically it won't be noticed as it will be hidden.
If we only knew that forklift driver *grrr*...
When you look at it, you get the impression we could be flying in weeks ;-) But the Quickbuild kit is officially 51% certified and internals will mean quite an amount of work before first flight...
Van's did an excellent job at packaging! Everything is well protected (except the bottom of the firewall, but that's not really Van's problem *G*) and they also were kind enough to copack other accessories we had ordered from third party suppliers so we could save shipping costs. A whole bunch of paper will have to be discarded *G*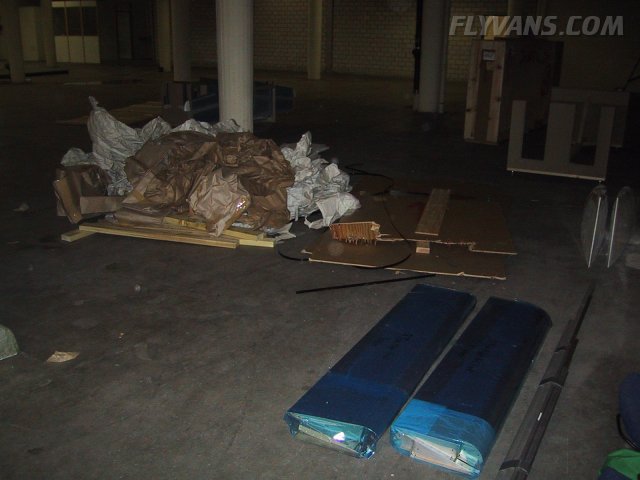 And then we opened the wing crate.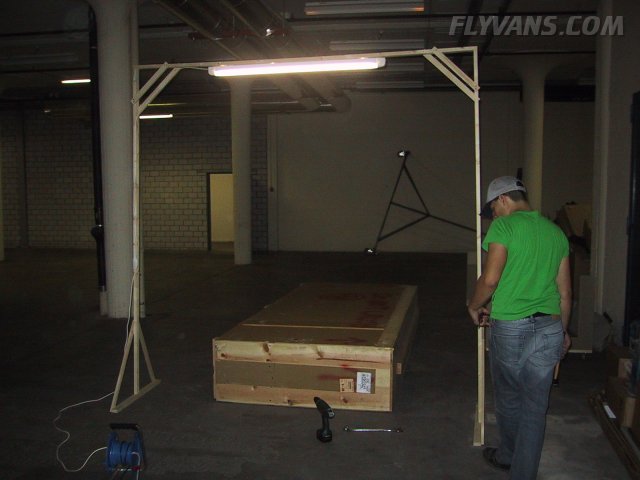 But not before Alex found his "Total performance" cap in the accessories order...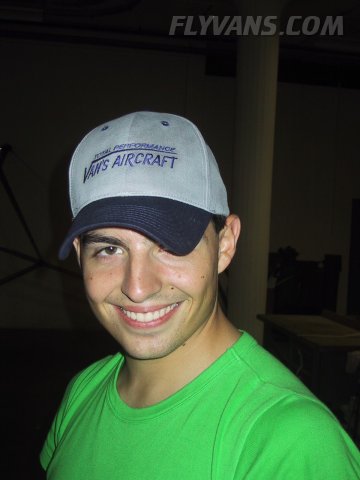 From crate...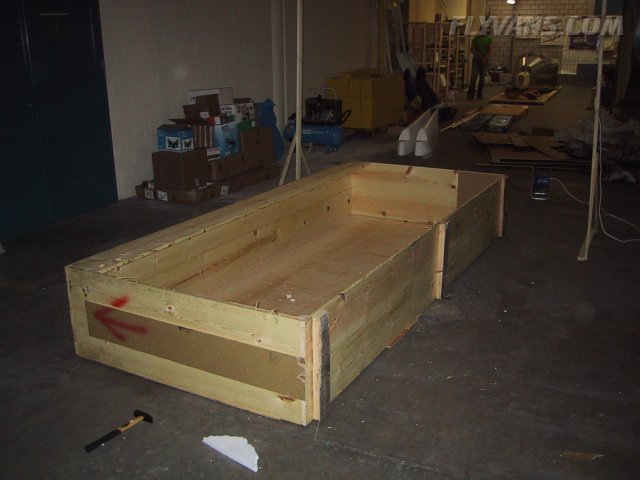 to wing cradle was only a matter of minutes... Our preparation of the cradle paid off and it fit on the first attempt.
Again the quality of workmanship on the wings is AAA+. And not to have to worry about prosealing the tanks lets us sleep much better *G* We can highly recommend the QB kit, definitely worth every penny! If you want to find out more about/where they are produced for Van's, check out http://www.bonanzametalcrafters.com
So here we are, an airplane that hasn't even flown but traveled around the world once... German sheet aluminum being punched and cut in Oregon, assembled in the Philippines then packed and quality checked again in Oregon and sent to us :-)
These el cheapo racks from IKEA prove their worth. First we thought maybe they would be overkill, adding to the racks we already have in the shop. But now we're happy to have them!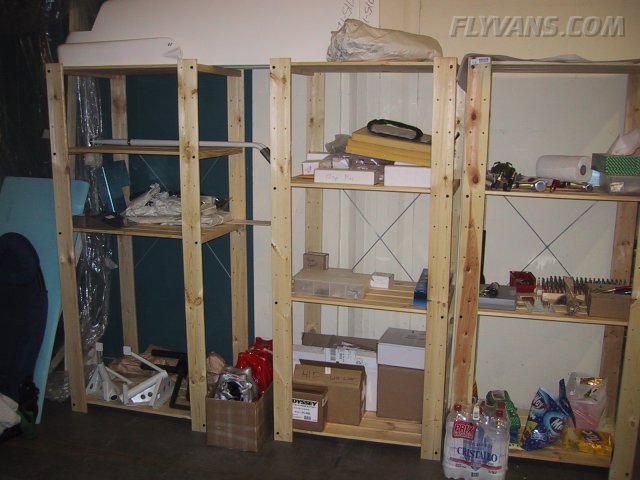 Van's still packs most of the small stuff in brown paperbags. It takes some time to inventory them as they have to be opened, inventoried and organized. As we did already with the empennage kit, we sorted the hardware into organizers with clear covers - much easier to find stuff. Van's seems to be moving on to a system with plastic bags and barcodes, which we think is much more comfortable to inventory...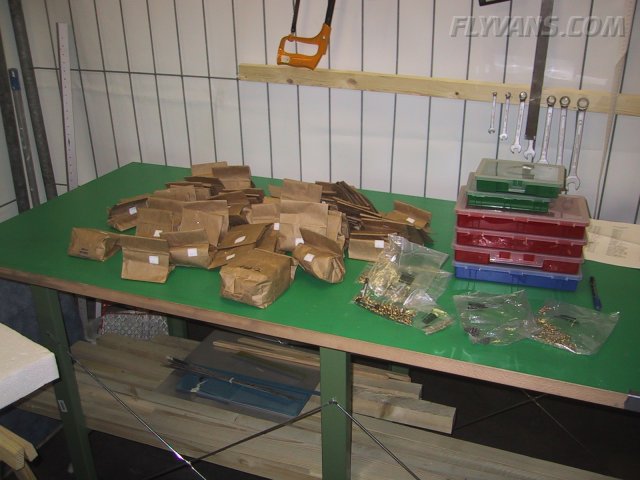 Also a large cardboard box with parts comes with the fuse crate.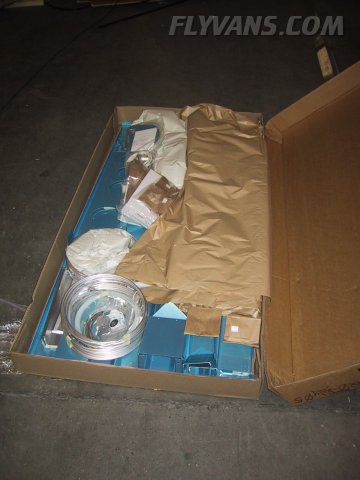 And that's how it looks like after a 10hour day and inventory complete *G*
With rivets, nuts, bolts and bearings ready for action.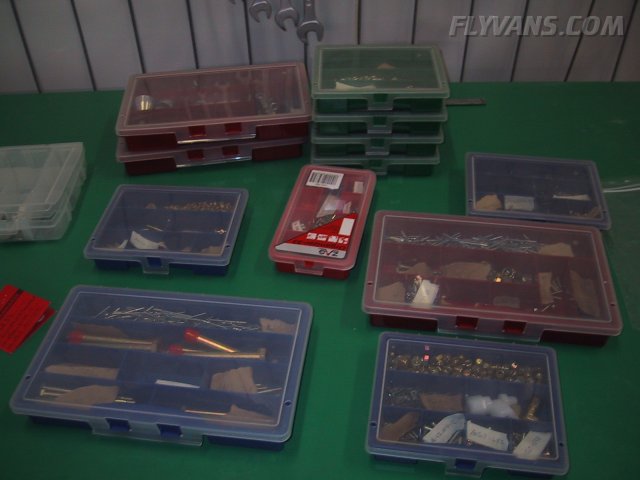 Making some airplane noises before heading home. Happy and a bit tired :-) Christmas and birthday all in one day, but there is yet more to come *smile*