Posted by Bernhard Daenzer
The RV-7A is a 2 seat experimental aircraft, built from a kit sold by Van's Aircraft of Aurora, OR.
It is an extremely good "allround" high performance aircraft, featuring decent payload, high cruise speeds and is even capable of doing aerobatics. However we opted not to include any provisions for negative g maneuvers (Inverted oil system / Inverted fuel pickup) mainly for weight and complexity reasons. The project took 5.5 years to complete, starting in January 2005.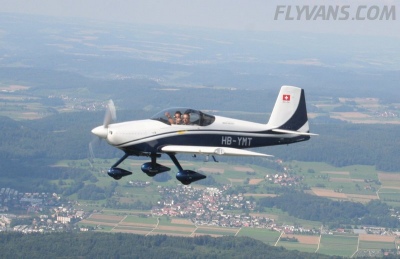 One advantage of experimentals is, that pretty much anything can be built into a panel / doesn't need to be certified. Which means the experimental market offers much more capable instrumentation at a lower price compared to certified aircraft. Simply because of less required paperwork. Our panel features 2 Efis Screens, a pc-based moving map system and an integrated electrical system. Flight director functions are available, driving a 2 axis autopilot.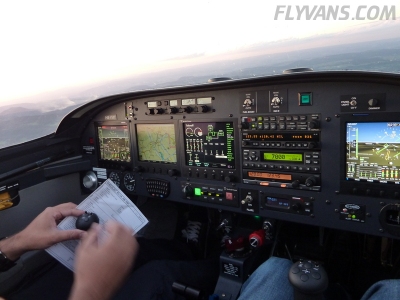 Performance (mix between Van's / our own data, still being developed/improved):
Speed – Gross Weight, 180hp

Top Speed

 

173 KTAS

 

Cruise [75% @ 8000 ft]

 

168 KTAS

 

Cruise [55% @ 8000 ft]

 

150 KTAS

 

Stall Speed (full flaps)

 

50 KIAS

 
Ground Performance – Gross Weight 180hp

Takeoff Distance (ground run)

 
ca 260 m

   

Landing Distance (ground run)

 
ca 400 m
 
Climb/Ceiling – Gross Weight 180hp

Rate of Climb

           

1,500 fpm

 

Ceiling

 

19,500 ft

 
Range

Range [75% @ 8000 ft]

 

664 NM

 

Range [55% @ 8000 ft]

 

816 NM